Here are 3 songs sung by an Adelaide pop up choir.
The first song, Voice! was written by the wonderful Suze Pratten.
In just a couple of hours she taught and lead us to sing 3 songs for the yes vote. They are all songs that will resonate past the 14th of October referendum.
Suze is a highly skilled, enthusiastic singing facilitator and performer who is passionately committed to building community through shared musical experiences.
A dynamic choir director, music educator and singer/songwriter of many years experience, Suze teaches choirs and singing in the Sydney Hills and Hawkesbury districts. She also leads several highly successful annual singing events with song leaders Rachel Hore, Imogen Wolf and Brian Martin and is an award winning songwriter, accomplished singer and percussionist. 
Suze is a trained TaKeTiNa teacher and also performs regularly in her folk duo Raw Honey.
You can find a studio recording and community singing resources for Suze's Voice! song here:
The second one was written by the also wonderful John Farnham, the first time (I believe) he has let that song be sung by anyone else.
The third is a beautiful poignant song which was written by Ms Wallabindi, a proud Wadandi Bibbulmun Noongar woman from Perth who has lived in Canberra for the past 20 years.
She is a singer who uses her platform to share her family's stories.
Her song Be Brave Make Change is one of several which make up her EP called Wallabindi Dreaming. You can hear her EP on Spotify here:
You can read more about Ms Wallabindi's story  in an ABC News article for 2023 National Sorry Day here .
If you like this content can you please share widely and indicate so on the facebook page pictured below.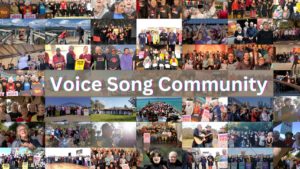 Categories: